Fashion
Best 6 Street Goth Fashion Style Ideas
The popularity of the heavily accessorised fashion practice with dark, highlighted make-up called Goth Style has grown popular than ever before. And the credit goes the range of designers who have worked relentlessly to make these dark collections a popular fashion genre and not just for the Fall season. Goth subculture has become mainstream and is no more misunderstood as the case was, before. Without the obvious spikes and mohawks, spikes and oodles of piercings to incorporate in your alternative clothing, you can still achieve the basic Goth street style if you follow these simple steps.
Hair
If you are going for a darker outfit, you need not dye your hair black. It is time that your break the usual gothic fashion game where you needed to dye your strands all black. It's time you play with your mane and choose pastel and ombre shades.
The make-up
The models rock the fashion events and ramps by smartly pulling off the cherry stained or dark berry lips. Sometimes even the black, blue and green ones. The ombre shades are also too much into fashion, the shade created by smudging two shades together, a dark one and a bright one.
But for the regular every day look, you can choose between a deep or bright red lip shade. The main idea is to make people focus on your lips and you could rather pull off the day with a no-make-up look.
The face: Do not try applying a lot of make-up, you can easily skip the heavy foundation, and go natural. You can rather go for a little concealer and CC cream. And if you are already blessed with a blemish-free, pale skin then nothing like it.
Eyebrows: You can draw your eyebrows, light or dark, as per your choice. There is nothing right or wrong in it.
Eyes: Goth makeup is essentially equivalent to smoky eyes. Blue, grey, green, purple, bronze, brown or the good ol' black or any other dark shade eye shadows will do just as good. You can also draw winged eyes with black, blue or brown eyeliners. Put a good amount of mascara. You can also wear coloured contact lenses.
Cheeks: Usually modern goths don heavily contoured cheeks.
Lips: Ox-blood lipstick to bright red, black to blue, you can literally wear every dark shade available on the palette.
Goth Topwear
Women's gothic clothing makes a lotta noise and there are specific tops that can highlight the gothic self in you. You can choose not to wear leather corsets and rather go for an awesome, printed Gothic tee, that would readily go with your favourite pair of denims, leather pants or skirts. If you want to opt for a dressier look, go for statement, frilly shirts, sexy tops and blouses, coats and so on.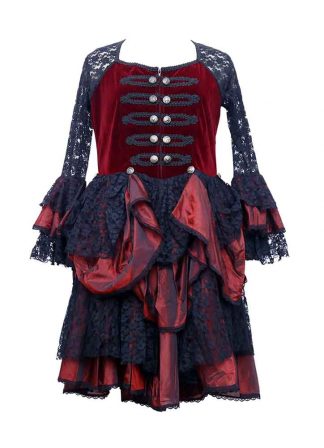 For the guys too, gothic tees are definitely an option. Apart from them zipped leather jackets, sweaters. You can also have a layered style during the winters, using capes, wrap ups and shawls.
Bottoms
Black denim or leather pants or skirts with stockings give you the perfect Gothic street style. Asymmetric, drapes, peplums, shorts or jumpers are also cool, gothic street style outfits that you can wear readily.
The footwear
Platform boots can be worn at any time, and for any occasion but you can also sometimes replace them peep-toes, ankle boots or doll shoes. A nice pair of edgy, leather shoes look good on men. It doesn't really matter if they are laced up, slipped on or zipped up, buckles or spikes, as long as they quirky and dangerous, they are just perfect.
Women can wear inverted wedge heels. Lately, these shoes have gathered much attention, after singer Lady Gaga, who is known for her off-beat dressing sense, wore it to an event.
And finally, Accessories
Mix-matching your outfits with gothic accessories would be a smart choice. For example, you can match your plain black tees or tops with Gothic necklaces or watches. Match your dressy outfits with satchels or big bags. Oversized sunglasses also go well with your gothic outfits.
Just be creative and confidently carry yourself. At the end of the day, that is all what matters.