Preparing for Easter baskets can get hectic. Sometimes time passes without you noticing. Now you only have one savior- pre-made easter baskets. There are plenty of selections at the gift shops and local stores. Let's look at a few easter gift ideas to make it a . 
Chocolate Spring Gift Basket
Easter Basket and chocolates are inseparable. You will enjoy a basketful of assorted chocolates to celebrate with the family. The chocolate spring basket contains various chocolate products such as pretzels covered with chocolate, pink chocolate tulips, Oreos, and robin eggs. This is excellent for the chocolate lover in your family, Relatives, and Friends. You can also add a variety of chocolate flavors such as mind chocolates, mild chocolates, and moo-free chocolates for people allergic to dairy products.
Chocolates are a great gift for the whole family. It doesn't matter whether there are health freaks in the family. They can use the moo-free products in the basket.  
Easter Morning Breakfast Basket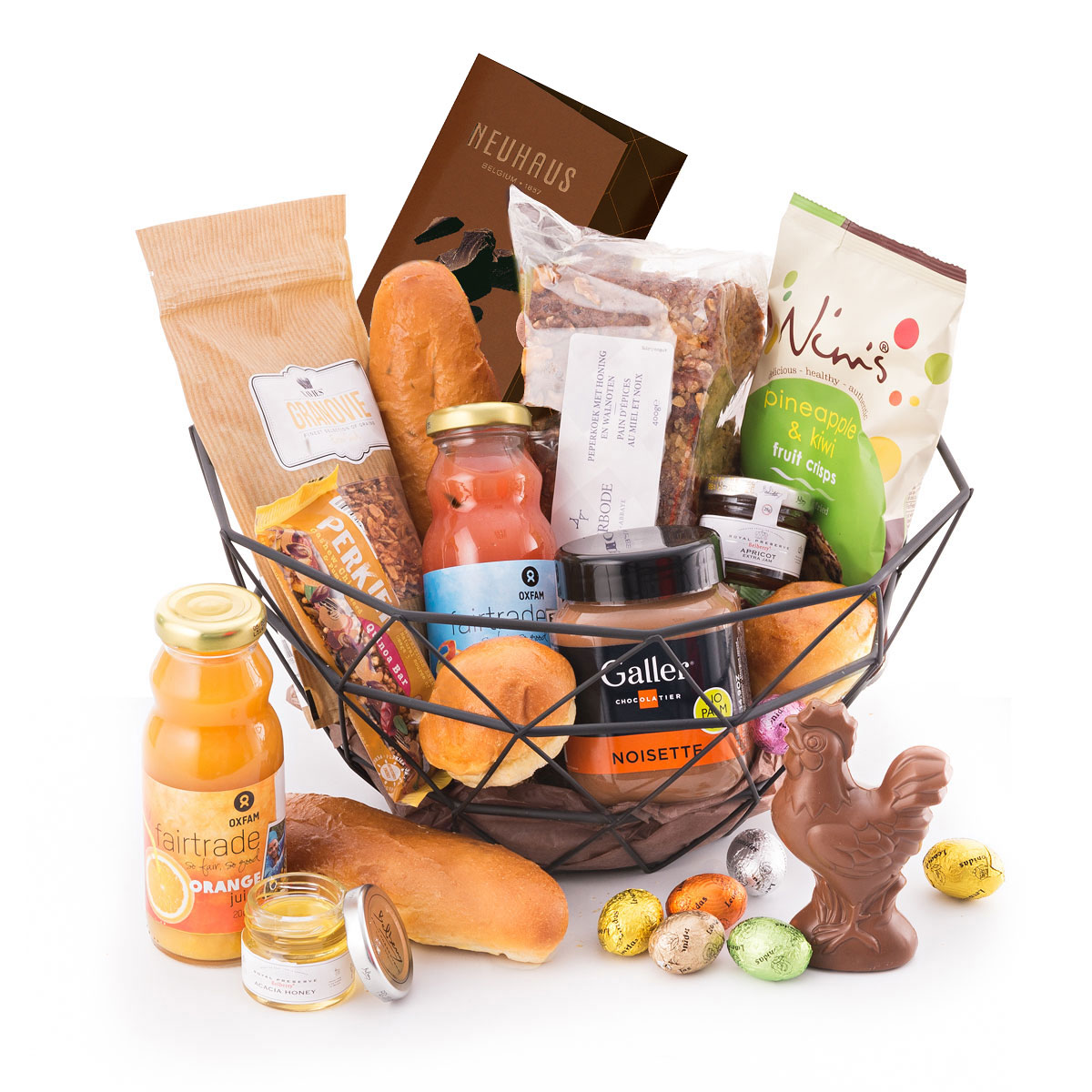 The best happy Easter starts in the morning. You can offer the same to your family through a Morning easter basket and wishes. It contains some brunch products such as cookies, sandwiches, pistachio muffins, Different types of tea bread, apple and raspberry filled pastries for everyone in the family. You can add two bottles of prosecco for adults. 
The Easter basket will save time for breakfast preparations. It helps give time to prepare other meals. Also, the day's cook will have an easy time and celebrate Easter with no fatigue.
Easter Wine Duo
Are you in a family of adults only? Or maybe the kids are not home this Easter? Then you can buy a family wine pack for Easter celebrations. The Easter Wine Gift Set is the perfect treat for a family Easter dinner and has something for everyone. Add some milk chocolate eggs for the sweet tooth. Also, add some kettle corn with black pepper and sea salt. 
Gourmet Italian Cookie Basket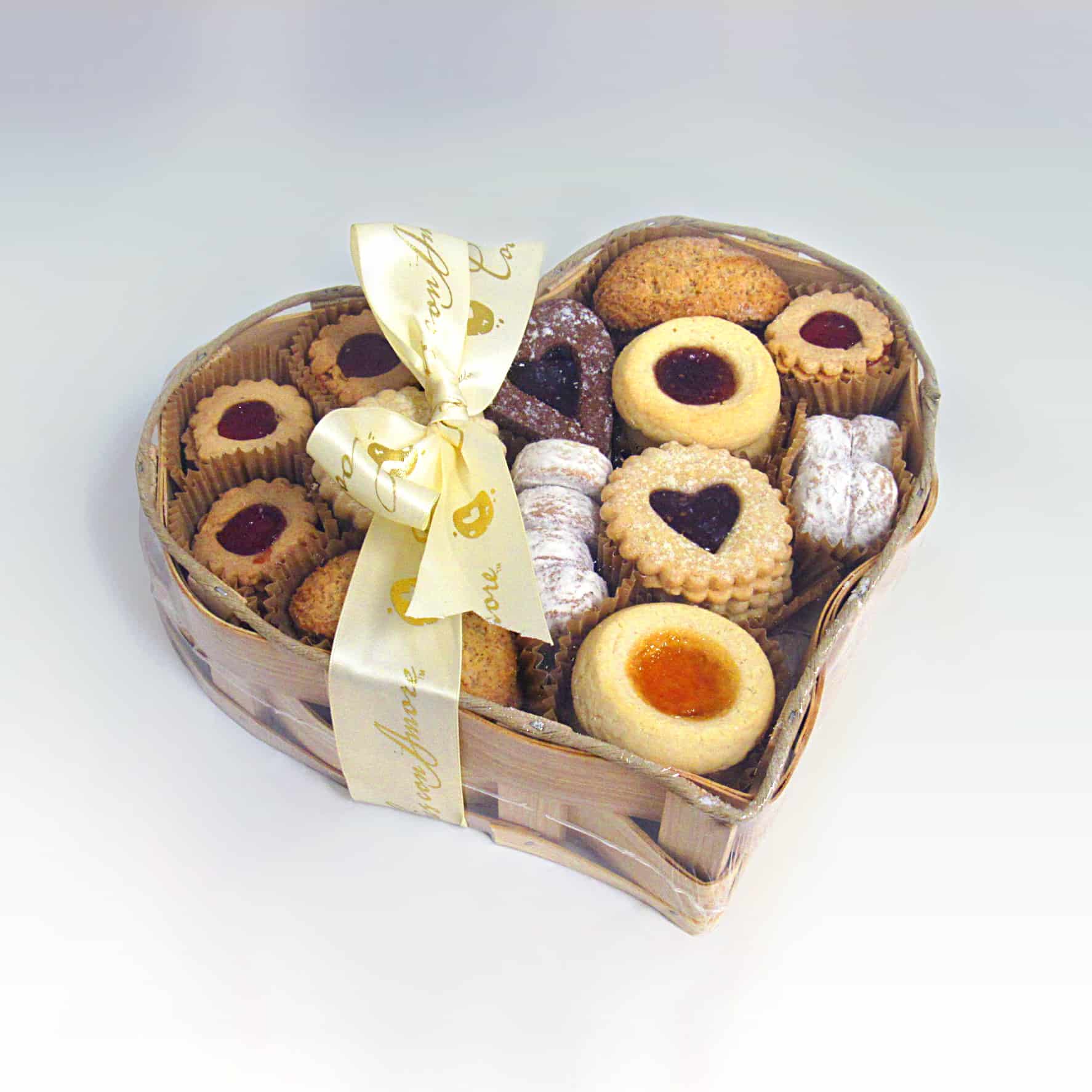 Cookies are another great item you can give a family for Easter. There are several types of cookies. However, there's none that beat the gourmet Italian cookies. They include biscotti, almondine, crinkles chocolate cookies, Sugar coated wedding cookies, etc. You can present them in a bunny head-shaped basket. 
The Gift basket is suitable for the whole family. The basket hamper comes packed with delicious Italian morsels and Barnetts Biscotti Cookies. There are 24 slices of Heaven added in six different flavors. You can enjoy the cookies as snacks as you wait for the meals to get ready. 
Easter Sweets Gift Basket
Easter is all about indulging in sweet treats. It is a day people cheat their healthy lifestyle and allow themselves to have fun. After all, the day only comes once a year. 
The basket contains everything sweet. Such are caramelized popcorns, lemon creme almonds, caramel swirl pretzels, peanut brittle, gummy fruit salad, saltwater taffy, jelly beans, pink grapefruit sours, and classic caramels.
There's everything to love about this basket. It contains several flavors and textures of sweet treats. This Easter gift idea will leave the family with life-long memories. 
Easter Candy Basket for Kids
Kids look forward to Easter since they can eat candies without limit. It's the only day their mommies will not scold them for eating too many candies. Thus, you can offer an easter candy basket for kids. 
Adults, too, can indulge in candies- they are not exclusive to kids. They include mini-eggs, tasty jelly beans, chocolate rabbits, and many more. 
Spring Popcorn Tins
If you do not want your family to indulge in sugary treats, you can substitute the fun with some trio flavor popcorns. Various stores sell them as a three and a half gallon pack. Celebrate Easter occasion with festive Easter treats, including Soring popcorn tins, Spring gift boxes, and other delicious Spring-themed snacks! They are large enough to fill a basket. With this pack, you are sure to have a blast Easter party. 
Lemon Treats Gift Basket
You can choose to send Easter greetings outside the norms. When everyone is sending sweet chocolates, cookies, and candies, you should buy a lemon-flavored fruit basket.
The basket includes lemon cookies, lemon cupcakes, candies, lemonade, and any other thing lemon. It's a great and delicious taste for the season.
Classic Easter Gift Basket
Sometimes you can choose to go classic. Make the Happy Easter basket look plain on the outside. Then you can feel it with some classic goodies. Nostalgia collections in gratitude to this classic Easter basket, loaded with malted milk eggs, peanut butter bunnies, and jelly beans. Chocolates are a standard treatment during the Easter holidays. You can also add some candies, cookies, fruits, and nuts. 
Lavender and Lilac Easter Basket
Mom spends the whole day preparing meals for the whole family. It is only right to treat her with a personal care basket. You may think the basket is personal but look at it this way. Mom takes care of everyone. Thus, if you take care of her, she will extend the same to the whole family. 
The lavender and lilac care basket contains SPA items that will last your mom a few months. The items contain essential oils from the two flowers, making her feel relaxed and cool. 
Easter Basket with Succulents
Candies, chocolates, popcorns, and other edibles do not last long. Well, you stay with them only for a few days. But you can choose to leave a life-long memory of the Easter celebrations. Add one or two succulents to your sweet treats basket. 
Wine Country Easter Basket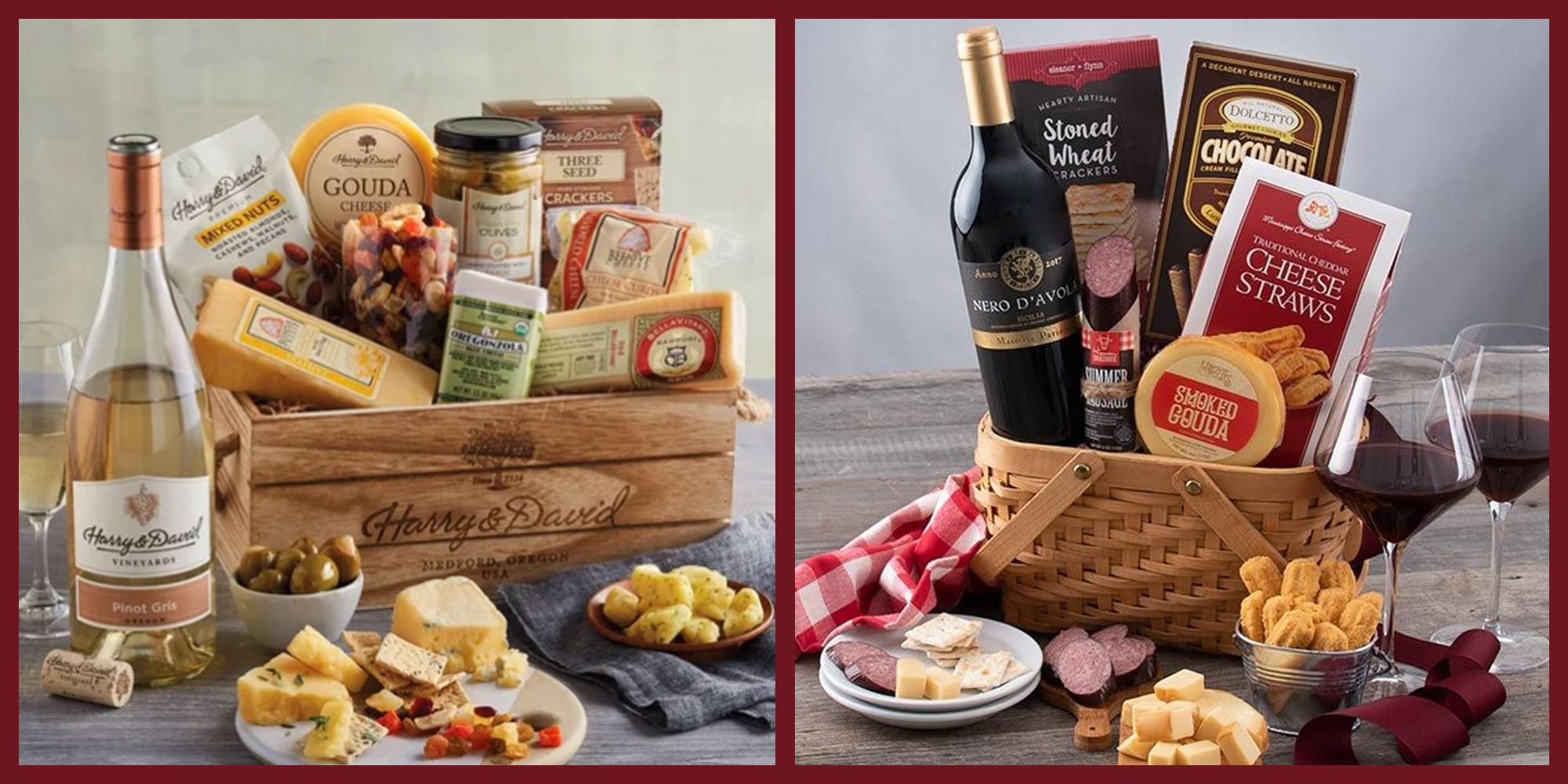 This basket contains some savory treats. You will find cheese, dried fruits, and crackers. Toast to sunnier spring days during your Happy Easter dinner with this wine bottle. It is a healthier choice to offer your family. It is suitable for everyone as the kids can have crackers and dried fruit treats. 
Moo-Free Easter Basket
Some families have more than one person allergic to dairy products. Thus, it is easier to buy moo-free products for everyone. The taste is similar to regular dairy products but a little expensive. 
A moo-free easter basket would contain different flavors of chocolates, cookies, cakes, and other edibles. MOO Free Easter Egg is dairy-free, gluten-free, and soya-free is made using a mixture of natural, organic, and ethically sourced ingredients. It ensures that no one falls ill after all the parties and hype. 
Fruity Easter Basket
Are you planning to buy an Easter basket for older people, then make a healthier choice. This affordable Fruity Easter Basket is a perfect gift for individuals, Relatives, or small families who love Healthy Fruits. A Fruity basket is an excellent choice. In this case, Add a c\variety of seasonal fruits like grapes, pears, mangoes, etc. You can also add perennial fruits like pineapples, bananas, apples, etc. 
If you don't want them to rush to finish the fruits or maybe throw away some, you can include dried fruits in the basket. 
Conclusion
You can create a happy easter with last-minute Easter gifts. Do not tense if time passes without you noticing. There are plenty of that can serve as last-minute surprises. In the list above, we have highlighted the best and beautiful pre-made baskets for easter celebrations.